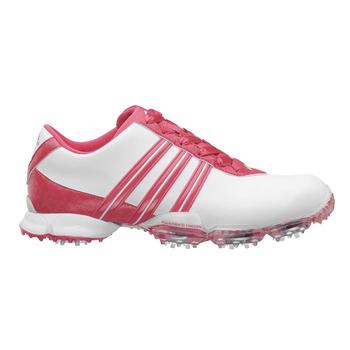 Adidas Womens Signature Paula Golf Shoes 2011 – Size: 3.5
Adidas Womens Signature Paula Golf Shoes 2011 Setting itself apart from traditional womens footwear in the category, the signature PAULA Golf Shoes are athlete inspired nshoes that combine Tour-Proven technologies with a fresh approach to styling. The Signature PAULA were designed along with Paul Creamer. to incorporate highlights reflective of Paula's personal style and preference. Adidas Womens Signature Paula Golf Shoes 2011 Features: UPPER: Full grain leather provides a rich look and feel wiht lasting quality Developed with LPGA Professional Paula Cfeamer to incorporate highlights reflective of Paula's personal style and preferences. IN-SHOE: FitFOAM moulded polyurethane footbed provides ever-lasting cushioning, support and comfort heel to toe. PLATFORM: Exclusive THiNTech low profile sole technology brings the foot closer to the ground for improved stability, power transfer, footwork sesnsitivity and balance.Other Ladies Golf ShoesOther Ladies Golf Products... More
Product
Retailer

Price

Adidas Womens Signature Paula Golf Shoes 2011 - Size: 3.5


Adidas Womens Signature Paula Golf Shoes 2011 Setting itself apart from traditional womens footwear...

Golf Gear Direct


£53.99


BUY NOW
Related products
An absolute essential! Be individual in our striped print Emerald Welly. Warm, waterproof and comfortable and with a vibrant striped print, you will be praying for rain this summer!

Adidas Tour 360 ATV M1 White/Yellow Golf Shoes They're back! The relaunched Adidas Tour 360 ATV M1 golf shoe uses forefoot flexibility and all terrain versatility for extreme comfort and grip that will adapt to any surface. With Adidas's 360ATV M1′s 10 spike configuration you are guaranteed superb traction and stability that you would expect

Read more...

Designed for Tiger Woods, the Nike TW '14 Men's Golf Shoe helps you unleash the full power of your swing with a Nike-Free inspired outsole that offers incredible flexibility from the ground up. It updates the previous version with an ultra-breathable upper, while Dynamic Flywire remains for adaptable support on the course. Flexibility The Nike

Read more...