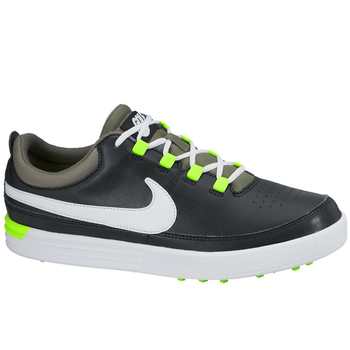 Nike Junior VT Golf Shoes
Nike VT Junior Golf Shoes feature a bright, comfortable design that looks great on the golf course or on the playground. These Nike Junior golf shoes are designed with protective synthetic leather with lace webbing and bold color pops that will keep your junior feeling great and looking trendy wherever he goes. Nike VT Junior golf shoes are equipped with a lightweight phylon midsole for added comfort and support, while the versatile rubber cupsole and rugged waffle patterned lugs provide lighter feel and zero pressure when walking. A comfortable kid is a happy kid, and these Nike golf shoes are oh-so-comfortable and stylish to boot... More
Product
Retailer

Price

Nike Junior VT Golf Shoes


Nike VT Junior Golf Shoes feature a bright, comfortable design that looks great on the golf course or...

Golf Gear Direct


£39.95


BUY NOW
Related products
An absolute essential! Be individual in our striped print Emerald Welly. Warm, waterproof and comfortable and with a vibrant striped print, you will be praying for rain this summer!

Adidas Tour 360 ATV M1 White/Yellow Golf Shoes They're back! The relaunched Adidas Tour 360 ATV M1 golf shoe uses forefoot flexibility and all terrain versatility for extreme comfort and grip that will adapt to any surface. With Adidas's 360ATV M1′s 10 spike configuration you are guaranteed superb traction and stability that you would expect

Read more...

Adidas Womens Signature Paula Golf Shoes 2011 Setting itself apart from traditional womens footwear in the category, the signature PAULA Golf Shoes are athlete inspired nshoes that combine Tour-Proven technologies with a fresh approach to styling. The Signature PAULA were designed along with Paul Creamer. to incorporate highlights reflective of Paula's personal style and preference.

Read more...